Links
Three categories - local history, local song, jazz.



LOCAL HISTORY SITES

HISTORY OF BLAYDON AND WINLATON
Visit this extremely detailed Dennis Shaw site for a comprehensive chronological history of significant events in Blaydon/Winlaton history. There are many 'now and then' photos and new detailed info is being constantly added. Its a fantastic resource and a comprehensive diary of our beloved home patch and highly recommended.

GENUKI - UK & IRELAND GENEALOGY
This amazing resource is not just about genealogy - it contains a wonderful amount of 'local history' and is well worth browsing.
I've included links below to some Genuki pages about other local villages and towns in the Blaydon area.

THE WINLATON STORY by R Anderson
Visit this Genuki page for a detailed account of Winlaton's long and chequered history.

THE LIFE AND TIMES OF COFFEE JOHNNY by Elsdon Watson
Visit this Genuki page for an account of the life and times of a legendary Winlaton character.

BARLOW RECOLLECTIONS 1925 - 1935 by Alex Johnson
This Genuki historical record is such a lovely, touching thing. It's wonderful insight into working class life at that time, in a small rural Tyneside village.

BLAYDON AND BEYOND by Frank Gillings
Visit this site for information and many photos of Blaydon and the surrounding villages.

THE DURHAM & TYNESIDE DIALECT GROUP
Formed in 1998 to promote the awareness of dialect English as spoken now and formerly in the North East.

THE NORTHUMBRIAN LANGUAGE SOCIETY
Formed in 1983 to promote, preserve, research, publish and enjoy those rich dialects from Northumberland to the NW .

THE NORTH EAST HISTORY PAGES
Information about the history, legends, dialect, songs, place names and famous people of the North East of England and Yorkshire.

HEBBURN AREA LOCAL HISTORY
Visit this great site for Hebburn/mid-Tyne history/photos/information.

SWALWELL MEMORIES
Visit this site for a trip down Swalwell's memory lane.

ROWLANDS GILL HISTORY by Mrs KA Low and R.G.W.I. 1961
Visit this Genuki page for historical information about Rowlands Gill.

HIGH SPEN HISTORY by Alex Johnson
Visit this Genuki page for historical information about High Spen.

HIGH SPEN HISTORY by Brian Pears 2010
Another Genuki source of historical information about High Spen, by Brian Pears using a typescript written by his late father which was never completed.

LEMINGTON & NEWBURN HISTORY
Visit this site for lots of information about Lemington and Newburn.

GATESHEAD HISTORY
Visit this site for historical information about areas of Gateshead - Dunston, Low Fell etc.

RYTON
Visit this Genuki page for some brief information about Ryton also links to lots of other local topics.

----------------------------------------------------------------------------------------------

LOCAL SONG AND CULTURE SITES

TOMMY ARMSTRONG - THE PITMAN POET
Visit this site for lots of information about the legendary poet.

POETRY TYNESIDE
Visit this blog for a review of over four decades of writing from the Tyneside Poets, Strong Words and Northern Voices; also featuring new works.

ERIC BOSWELL
Visit this site for an affectionate tribute and information about the late, great Eric Boswell who added so much to our local song repertoire.

--------------------------------------------------------------------------------------------

JAZZ RELATED WEBSITES (some local and some of my favourites)

BEBOP SPOKEN HERE
This is Lance Liddle's fascinating blog (it's growing all the time!) with information/photos/comment/archive - all about the local jazz scene and beyond. It is unbiased towards any particular style of jazz, which is great.
It contains hundreds of photos of musicians both local and international, past and present, what's on, concert reviews, stories, quips, obituaries, CD info., visitor comment etc. etc.
Visit to the site highly recommended. Just click on the title above to enter.

JAZZ CLUBS WORLDWIDE
Going abroad or elsewhere in the UK? This great site will tell you where and when you can find live jazz.

ASHINGTON JAZZ CLUB
Ashington Jazz Club at 'The Elephant', North Seaton near Ashington.
The club is now run by enthusiast John Taylor. The music ranges mostly from traditional to mainstream. It's a great club - check their site to find out what's on.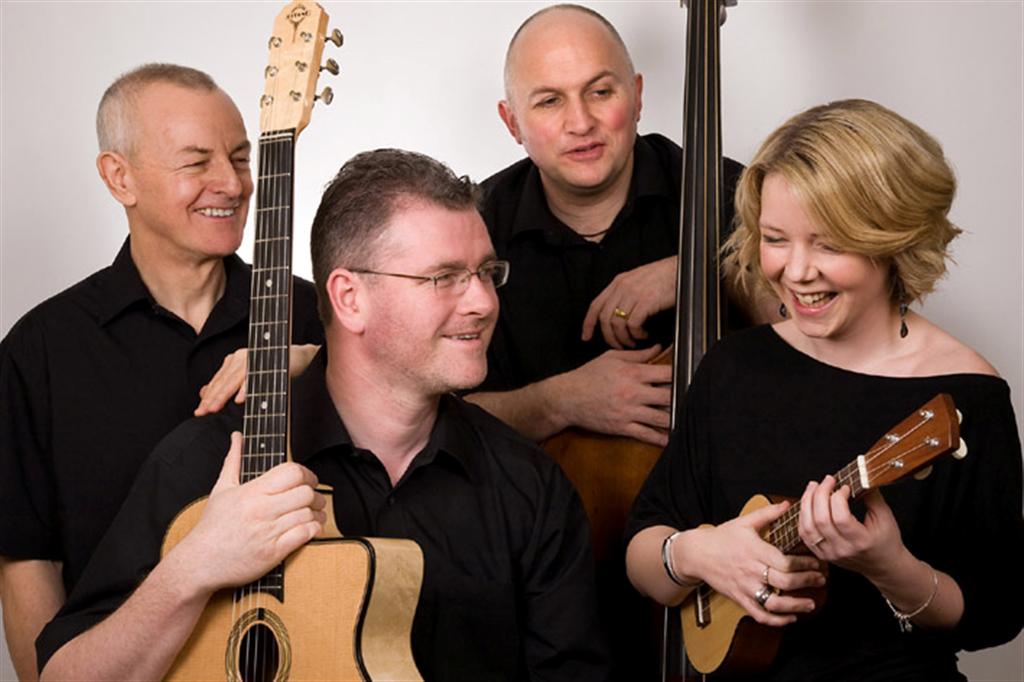 KEITH STEPHEN's HOT CLUB TRIO
and CAROLINE IRWIN
Keith Stephen - a fine Django style guitarist, banjo player and builder of Selmer/Maccaferri type guitars.
Photo right - Caroline with the trio (Roly, Keith , Bruce).
Visit Youtube for some of Keith's trio and other music activities - enter the trio's name then click on 'ukelelekeithstephen' on the right of the screen for access to several nice clips.

JAMES BIRKETT
This is the website of jazz guitarist and nationally respected music educator James Birkett. James moved to Tyneside in 1984 to take up the post of course leader on the jazz and commercial music diploma course at Newcastle College. This was to become the B Mus degree now situated at the amazing SAGE concert venue and all music complex (one of the best in the world).
When James moved north we soon became very good pals and he became a frequent visitor at Blaydon Jazz Club. This led to occasional performance work together and more recently his involvement with our tradition of local dialect songs, as a member of The Blaydon Aces.

SADOWSKY GUITARS
Roger Sadowsky makes great, beautifully set up guitars - check out The 'Jim Hall' model.

JIM HALL
Jim Hall - master jazz guitarist and one of the all time great jazz musicians.

ED BICKERT
Ed Bickert - the great Canadian jazz guitarist - master of tasteful melodic soloing and gentle/subtle comping.

REBECCA KILGORE
Rebecca Kilgore - one of my favourite singers of standards. Warm, sincere, unpretentious - check out her recordings.

JOHN HALLAM
John Hallam - a great UK swing style jazz musician (clarinet and saxophones).

MIKE PIGGOTT
Mike Piggott - great UK Grapelli/Venuti style violinist.

THE GATESHEAD SAGE MUSIC AND EVENTS CENTRE
The Sage Music Centre - our stunning new world class venue for music of all styles.

CLASSIC JAZZ GUITAR - BARRY GALBRAITH
Barry Galbraith - was one of the all time great jazz guitarists and teachers. Read about Barry and many other greats of jazz guitar on this website.

BIX BEIDERBECKE
Bix Beiderbecke - visit this wonderful site for info. on the one and only 'Bix'. He died in August 1931 aged only 28.
Unsurpassed beauty of tone, conception, feel - Bix had it all. There are lots of soundbites to try - for starters I suggest 'Clarinet Marmalade' and 'Singin' the Blues' from February 1927. Maybe it's just sentimental old me but it brings a tear to the eye. I know there are plenty of jazz fans worldwide who react that same way to his music.

PAUL EDIS
Paul Edis is a local young jazz pianist who is building a national reputation as a wonderful young player. He is inspired and strongly influenced by Bill Evans but is open to all styles across the jazz spectrum.

LEVEE RAMBLERS NEW ORLEANS JAZZ BAND
Levee Ramblers New Orleans Jazz Band capture wonderfully the authentic feel and charm of early ensemble style New Orleans jazz.

ROB LONGSTAFF - GUITARIST
Rob Longstaff is a fine contemporary style guitarist creating original music that you should check out. He hails from Blaydon but for many years now has lived and worked in the Peterborough area, where he is involved with preparing braille music. He was in an fine jazz fusion outfit locally, with master tenorist Lewis Watson - a band called 'Sneck'. Visit Rob's website for more information and insight into his unique music.

ROLLING AUDIO
This is the website of recording engineer Julie Bartley. Julie carried out the recording of Swing City Trio's CD 'What a little moonlight can do' and did a great job. Patient, meticulous, sympathetic to the genre, very reasonable cost and lovely end result. We were all very happy with her work.

MARK TOOMEY - ALTO SAX, CLARINET and FLUTE
Mark is a brilliant bebop styled jazz musician who is also an experienced and much respected music teacher. Check out his website for information about all his music activity.



Home Page